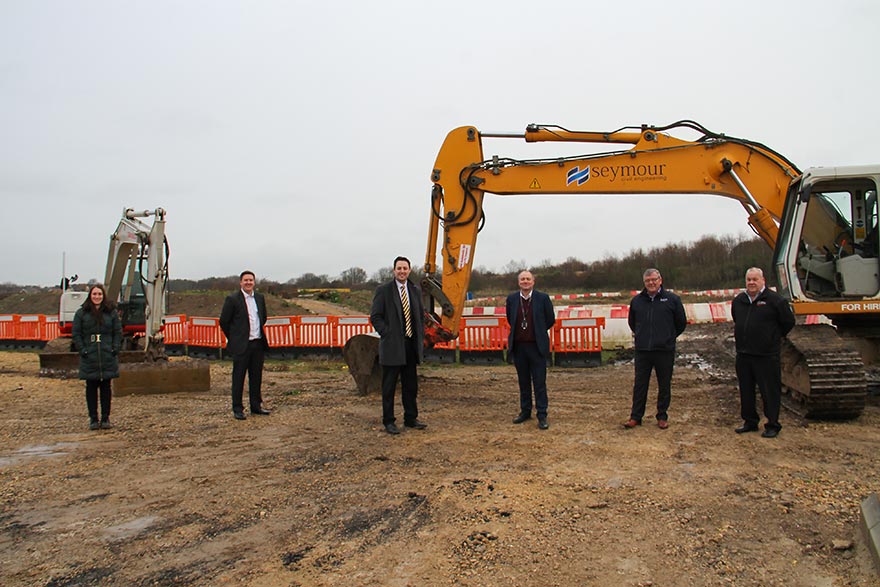 Teesside Skills Academy Starts Telecoms Training Programme
Companies in the Tees Valley are working together to train a workforce for the digital telecoms sector.
Hartlepool College of Further Education is working with Seymour Civil Engineering and the Tees Valley's Digital Telecoms Network Academy (DTNA) to provide the training opportunities in Stockton and Hartlepool
Roy Fraser, business development director of DTNA said: "The work going on at the Seymour Skills Academy is fantastic, real exemplary practice across their sector.
"We can all see how that work alongside the expertise we have developed at our Stockton site can provide all the knowledge, skills and behaviours that our sector needs."
The partnership has been given funding by the Tees Valley Combined Authority and will provide free training so people can develop the skills for roles in the sector.
The Seymour Skills Academy, in Hartlepool, was established n 2019 and trains young people, adults and apprentices in the construction industry.
The new programmes are delivered from the Hartlepool academy and the DTNA site in Stockton, dependent on career route.
Mr Fraser added: "With the pooling of our expertise we now have routes to be a telecoms engineer or a telecoms construction operative, in fact learners can move across the programmes dependent on the jobs available. This has vastly increased the future job roles we can help fulfil in this in-demand sector."
One of the major employers for these future roles is City Fibre, which has a three-year recruitment and training programme to provide up to 10,000 people with jobs upgrading the UK's digital infrastructure to full fibre, and plans to replace Middlesbrough's copper networks with gigabit-capable full fibre optic connectivity.
The newly formed partnership aims to train over 100 learners in the next six months with the emphasis on providing career opportunities for Tees Valley residents.
Darren Hankey, principal and chief executive of Hartlepool College said: "We are really excited about our new partnership with DTNA, it's clear to see how this can build upon and compliment the excellent work we do with Seymour.
"However, this couldn't happen without the support of Tees Valley Combined Authority. Their flexibility in changing the adult education budget has allowed us to provide the qualifications that employers want and need."
Tees Valley Mayor Ben Houchen said: "The engineering and telecoms skills needed to connect people and businesses across Teesside, Darlington and Hartlepool are in huge demand.
"Growing this sector, which has one of the fastest growing jobs markets, is an important part of my plan for jobs, a plan that is delivering good-quality well paid jobs for local people."
"It's fantastic to see Hartlepool College, DTNA and Seymour come together to give people these much sought-after skills and training they need to succeed in the hugely important sector.
"Digital connectivity is at the heart of our longer-term plans to grow our economy in response to the coronavirus pandemic, and we're already working with Seymour at the Teesworks site where they are also delivering vital construction jobs for local people, which is what is needed now."